It's been a while since I've posted here, mainly because I've been writing, writing, writing. While working on the Spring Bride's Anthology "CALEB'S KISS" for May 2008, I received the go ahead for another historical, "TAMING THE TEXAN" (tentative title)and then I'm happy to announce the sale of another Silhouette Desire, coming in January 2008!
So life is crazy for me, but in a good way!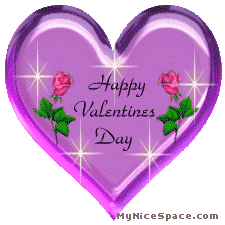 Myspace Codes: MyNiceSpace.com
But I couldn't let this day go by without saying HAPPY VALENTINE'S DAY to lovers of romance and people who believe in happily ever after! It's the day to remember the good things about the people you love in your life. To show them you care. In a simple way, a big way or somewhere in between.
This time I went practical for my hubby, with a One-on-One Coffee brewer using a "coffee" pod insert which gives you a fresh cup of coffee in one minute, no mess, no fuss. And easy clean up. And the Styrofoam cup with lids will provide him coffee on the go, when he leaves for work.
It was all set up late last night while he slept, so this morning when he walked into the kitchen he could simply press the button and waa-laa! I have to admit I felt like Santa stealing around the house quietly putting it all together with balloons and bows too. It was great fun!
And for me - my husband went sentimental again, with an adorable stuffed animal holding a small photo journal depicting our life together for the past 30+ years- something he painsakingly put together while I wasn't looking! Very sweet. I love it!
Please be sure to check out my Valentine's Contest at
Romance Junkies
today where you can win a beautiful Valentine necklace and a signed book.
The Capa Awards will be given out today from THE ROMANCE STUDIO. THE WAY TO A MAN'S HEART from Cobblestone Press was nominated in the contemporary category, I'm proud to say.
HAVE A SWEETHEART OF A DAY!