Notable And Quotable - Western Style!
"If he'd just pay me what he's paying them to stop me from robbing him, I'd stop robbing him!"
That's Paul Newman's clever rationalization in Butch Cassidy and the Sundance Kid! Those two lovable bankrobbers had some classic lines and put smiles on our faces.
"Think ya used enough dynamite there, Butch?"
And who could forget this exchange?
Butch Cassidy: Then you jump first.
Sundance Kid: No, I said.
Butch Cassidy: What's the matter with you?
Sundance Kid: I can't swim.
Butch Cassidy: Are you crazy? The fall will probably kill you.
Here's a few more notable quotes from our favorite westerns.
"When you have to shoot, shoot, don't talk." -- The Good, The Bad, & The Ugly
"The public doesn't give a damn about integrity. A town that won't defend itself deserves no help." -- High Noon
"Are you gonna pull those pistols or whistle Dixie?" -- The Outlaw Josey Wales
"There's always a man faster on the draw than you are, and the more you use a gun, the sooner you're gonna run into that man." -- Gunfight at the O.K. Corral

"People scare better when they're dying." (Henry Fonda, Once Upon a Time in the West) (1)

"If God didn't want them sheared, he wouldn't have made them sheep." (Eli Wallach, The Magnificent Seven)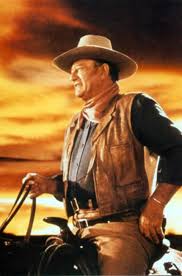 "I come close to killing you a couple of times when we were younger. It saddens me I didn't." (John Wayne, McLintock)

"Since you haven't learned to respect your elders, maybe you'll learn to respect your betters!" (John Wayne, Big Jake)

"Men are gonna get killed here today, Sue, and I'm gonna kill 'em. " (Kevin Costner, Open Range)

See if you can guess who said this:
1."A cows nothing but a lot of trouble tied up in a leather bag."

A. Gene Autry
B. Clint Eastwood
C. John Wayne
D. Steve McQueen
2. What movie did this quote come from?
"Man's got a right to protect his property and his life, and we ain't lettin' no rancher or his lawman take either.
A. Open Range
B. High Noon
C. Stagecoach
D. Quigley, Down Under
3. What female star said this, ""If you weren't the Sheriff, I'd call one."
A. Maureen O'Hara
B. Raquel Welch
C. Sharon Stone
D. Dale Evans
So, do you have a favorite line from a movie, TV show or book? And who's your favorite all-time notable quotable western star?
Answers:
1. C (John Wayne in "The Cowboys" 2. A (Robert Duvall in "Open Range") 3. B (Raquel Welch in "Hannie Caulder")